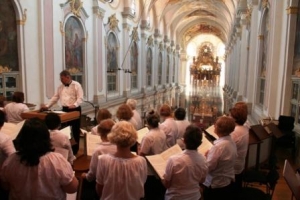 Our new Choir School and Workshop "Musica Semper Viva is announced on the web www.musica-viva.cz.
Club Tours Agentur, The Czech Republic's finest organizer of choral tour programs, is pleased to announce the creation of MUSICA SEMPER VIVA, a new and exciting tour opportunity for singers. CTA has for many years organized excursions for travelling choral and instrumental ensembles in Central Europe. It is also the organizer […]
CHORAL ARTS ENSEMBLE
COLLEGE OF SAINT BENEDICT – SAINT JOHN'S UNIVERSITY
COLLEGEVILLE/SAINT JOSEPH, MINNESOTA, USA
On Friday, May 22, 2015, 19:00, 50 singers will be present a concert at Kostel sv. Šimona a Judy in Prague.
The choir Choral Arts Ensemble, comes from Minnesota, USA. All the singers are currently students at the College of Saint Benedict and Saint John's University.
This years program will feature – among others – music for choir and organ by Cesar Franck (Psalm […]